Hardwood Flooring in Little Rock, AR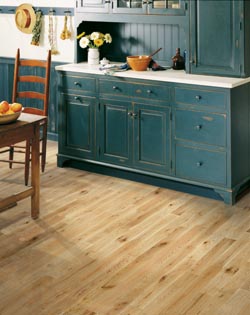 Make your home more enjoyable and inviting with the distinctive look of hardwood flooring. We make it easy to upgrade any room in your home with our wide selection of hardwood styles in a multitude of colors, finishes, and grains.
Whether you prefer the versatility of engineered hardwood flooring or the enduring strength and charm of solid hardwood flooring, our friendly staff will guide you to the ideal option for your new floor, and then install it to perfection.



Cost-Effective Engineered Hardwood Flooring
Enjoy a more luxurious floor for less when you choose engineered hardwood flooring. Consisting of a genuine hardwood veneer laid over a layered plywood or high-density fiberboard (HDF) core, engineered hardwood retains all the natural characteristics of solid wood while adding greater stability through its increased resistance to moisture and humidity. Though this flooring is great for any above-grade installation, its resilience makes it a preferred choice for installation over radiant heat sources or concrete subfloors.
In addition to its lower cost and added durability, engineered flooring is an eco-friendly option that supports the environment through responsible forestry and reduced manufacturing waste. Additional benefits of engineered hardwood include:
Stands up to Many Years of Wear at a Rate Similar to Solid Wood
Reduced Risk of Twisting Common with Wider, Solid-Plank Flooring
Varied Plank Thicknesses for Less Awkward Transitions between Flooring Materials
Increased Installation Options—Can Be Nailed, Glued, or Floated


Time-Honored Solid Hardwood Flooring
Whether your style is rustic or traditional, contemporary or modern, solid hardwood flooring creates a timeless atmosphere in any home. Solid wood floors are an ideal option for any type of home, from a downtown high-rise to a suburban Victorian, craftsman, or bungalow. Suitable for any decor, our collections of solid hardwood floors are available in various widths and colors, allowing you to bring the beauty of any surface treatment—including scraped, chattered, and wire-brushed finishes—into your home.
Considered the original wood floor, our solid wood floors consist of planks cut from a single block of wood for superior strength, durability, and better acoustics, with no hollow sounds or vibrations. It can be manipulated, sanded, and refinished hundreds of times over its lifetime without needing replacement. This long-lasting resilience and versatility makes solid wood flooring a great investment that offers an optimal increase in your home's value.


Unique & Stunning Hardwood Floors
Beyond the boost to your home's resale value, hardwood floors add a wonderful sense of character to any living space. Hardwood is unmatched for its natural beauty, making it an option worth considering when building or renovating a home. Because of the diversity of tree species and wood types, no two floors are exactly alike. A world of colors, consistencies, and patterns are available. We offer hardwood in all of the following species and more:
Acacia
Birch
Cherry
Maple
Oak
Walnut
Hickory
In addition to its stunning appearance, hardwood offers great spill and stain resistance and requires little routine maintenance. Wood also offers an unparalleled, inherent warmth and comfort. Furthermore, hardwood never goes out of style. It can be refinished at a much lower cost than that of replacing a dated floor.


Complete Hardwood Flooring Installation
Ensure the lasting quality of your new floor when you rely on our staff. We deliver fully guaranteed hardwood flooring installation at competitive rates that won't exhaust your budget. When you choose our professional installers, we commit to uphold the following pledge:
"To provide you with a level of personalized service that is unmatched by any home improvement center or other flooring store – and to do everything in our power to earn your trust, business, and recommendation to your friends."



Contact us today in Little Rock, Arkansas, and allow our hardwood flooring specialists to help you select and install the ideal flooring for your home. We proudly serve the communities of Little Rock, North Little Rock, Benton, Maumelle, and Conway, Arkansas.