Beautiful and Durable Countertops in Little Rock, AR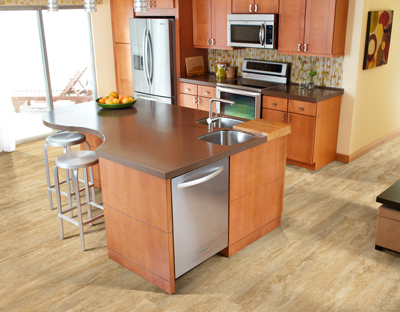 Don't let an old-fashioned or worn out counter date your room. Get a new, gorgeous surface from Arnold's Flooring America. We're pleased to offer one of the widest selections of countertops in Little Rock, AR. Whether you're renovating your kitchen or your bathroom, we have the beautiful, durable surfaces you need. Some of the brands we carry include:
Cambria
Caesarstone
Prestige Stone
MSI
Silestone
Wilsonart
Visit our showroom to browse our counter collection and find the ideal style to accent your room. Whether you prefer classic looks or modern designs, we have a product for you.


Styles for Your Kitchen or Bathroom
Kitchen countertops see a lot of action. Spills and splattering occur all the time. Some people knead bread dough on their counters; others rely on their counter to be there if they need to set a hot pot down quickly. No matter what happens in your kitchen, you need a surface that cleans easily, doesn't harbor bacteria, and withstands wear and tear. Talk to our team today to explore our options for your kitchen.
Likewise, any worthwhile bathroom countertop is water resistant and easy to maintain. You should be able to get ready for the day or for bed without worrying about water damage and other issues. Explore our many counter styles for bathrooms to find the right one for your particular needs.


Choosing Between Granite or Quartz
Granite or quartz: it's a big decision to make. These two materials are perhaps the most popular options for counters and each offers its own special perks. At our home improvement store, we help you determine which is right for your renovation project.
Granite countertops are 100% natural and come in a diverse array of colors and patterns -- no two slabs are the same. They are heat resistant and hold up well to many kinds of wear and tear. Quartz, on the other hand, is around 95% natural with the other 5% being polymer resins. A quartz surface is even harder than granite, but it is not heat resistant. In exchange, however, quartz doesn't need to be resealed annually like granite.
No matter which style you choose, you can count on our crew for professional countertop installation. We'll ensure your surface is fitted correctly and that no unnecessary damage occurs. Reach out to our showroom today for further details on the difference between granite and quartz, as well as details on our installation services.



Contact us for more information on the counter styles we sell and install. Our store is proud to serve clients from throughout Little Rock, Arkansas, and the surrounding area.