Find Your Schluter-KERDI Shower System in Little Rock, AR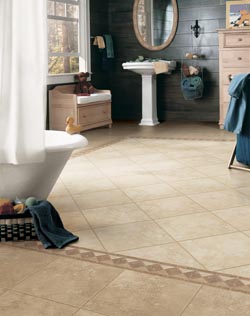 Upgrading your bathroom shouldn't stop at just new floors. While flooring makes a big difference, there are many other ways to improve your bathroom's look and function. That's why Arnold's Flooring America is proud to also offer the Schluter-KERDI Shower System in Little Rock, AR.
The Schluter system is a family of waterproofing products that work together to create a fully-bonded, watertight shower assembly. We're pleased to be an authorized retail dealer for Schluter since it is one of the most trusted names in tile shower waterproofing. Visit our store today to learn more about the perks of Schluter systems, as well as our tile flooring products perfect for bathrooms.


Why Waterproofing Matters
Your shower is the area of your home that frequently experiences high amounts of moisture. Every time you turn it on, the space gets drenched in water and steam goes everywhere. This makes standard and custom showers alike prime spots for mildew and mold. Fortunately, with the right waterproofing in place, you can protect your shower from all types of water damage and related issues.
Schluter systems come highly recommended by bathroom renovation professionals because they are as watertight as possible. They greatly diminish the chance of water and vapor penetration. Furthermore, they also make shower installation easier and reduce overall project time. The Schluter-KERDI Shower System has everything you need to seal off every aspect of your shower, from your drain to your bench. Learn more about this waterproofing system by consulting with our team today.


Customizing Your Shower
Some people want to upgrade their shower's beauty to match their overall aesthetic. Other people need to make their shower safer and more functional for a family member with mobility issues. No matter what the case may be for your household, our store is pleased to make customizing your shower easier.
Talk to our staff for details on the various accessories available for your custom shower. Whether you're looking for a specific style of tile or reliable grab bars, we're here to help.
We're also pleased to assist your overall bathroom renovation project. Your bathroom should be a space where you can relax, so our team helps you make the room more beautiful, functional, and convenient. Explore the possibilities for your bathroom by making a visit to our home improvement store today.



Contact our store for further information of Schluter-KERDI Shower System products. We're located in Little Rock, Arkansas, and proudly serve clients from throughout the surrounding area.